Watches are a great accessory that adds a touch of elegance and style to any outfit. However, over time, a watch band can become dirty and dull, especially if it's not cared for properly.
A clean watch bracelet not only looks great, but it also ensures the longevity of your watch. This guide will provide you with everything you need to know about how to clean a watch bracelet.
What Type of Watch Bracelet Do You Have?
Before cleaning your watch bracelet, identify the type of material it's made of. There are different types of watch bracelets, including stainless steel, leather, rubber, and even fabric.
Different materials require different care and cleaning methods. For example, stainless steel bracelets can be cleaned using water and soap, while leather bands need special care to avoid damaging them.
Preparation for Cleaning Your Watch Bracelet
Before cleaning, make sure to equip yourself with the necessary tools, including a microfiber cloth, water, and mild soap. It's important to avoid using harsh detergents or abrasive materials as they can scratch the surface of your watch bracelet. To avoid damage, remove your watch from the case and ensure the crown is pushed in before cleaning.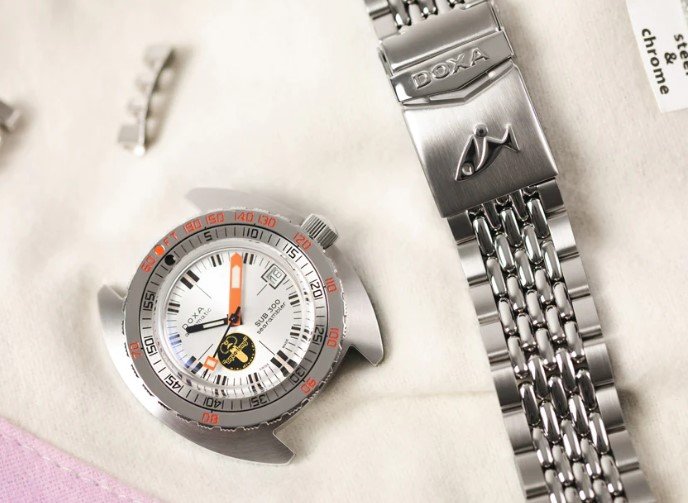 Cleaning a Stainless Steel Watch Bracelet
Stainless steel bracelets are the most common type of watch bracelet and are relatively easy to clean.
Start by dipping a soft-bristled toothbrush in a mixture of water and mild soap.
Gently scrub the bracelet, paying attention to the links and clasps, while avoiding the watch face.
Rinse the bracelet with clean water and dry it using a soft cloth.
Cleaning a Leather Watch Bracelet
Leather straps require special care to maintain their appearance and longevity.
Start by removing any dirt or debris using a dry cloth.
Using a cotton swab, apply a small amount of a mild leather cleaner to the bracelet, then gently rub the solution onto the leather.
Use a dry cloth to wipe away any excess cleaner and let the bracelet dry completely.
To prevent cracking or fading, invest in a good-quality leather conditioner, which should be applied every six months.
Cleaning a Rubber Watch Bracelet
Rubber watch bracelets are durable and resistant, making them an excellent choice for sports watches.
Before cleaning, remove any dirt or debris using a dry cloth.
Create a solution of mild soap and water, then dip a soft-bristled brush in the solution.
Gently scrub the bracelet, making sure to avoid the watch face.
Rinse the bracelet with water, then dry it off using a soft cloth.
Tips for Maintaining the Appearance of Your Watch Bracelet
Regular maintenance can help prevent the buildup of dirt and grime, ensuring that your watch bracelet retains its shine and durability. Here are some additional tips to help keep your watch bracelet looking its best:
Avoid exposing your watch to chemicals, including perfumes and lotions.
Keep your watch away from water, especially if it's not waterproof.
Store your watch in a cool, dry place away from direct sunlight.
Always remember to follow the manufacturer's instructions when it comes to maintaining and cleaning your watch, as different watches may require unique cleaning methods.
Conclusion
One of the best ways to ensure your watch lasts for years is by regularly cleaning the bracelet. Understanding the type of material your watch bracelet is made of is essential, and using the right cleaning process can keep your watch looking its best.
By following these simple steps, you can maintain the appearance and durability of your watch bracelet, ensuring that your watch remains a statement piece for years to come.