A father's birthday is a special occasion that calls for celebration. It is a day when you can express your love and appreciation for all the hard work, sacrifices, and dedication that your father has done for you. Planning a memorable birthday party for your dad can be a great way to show him how much you care. Here are some elaborations on the ideas listed above to help you plan the perfect birthday party for your dad.
Make it Personal
Making the birthday party personal means that it should reflect your dad's taste and personality. To do this, you need to think about the things that your dad loves. Think about his favorite sports team or his favorite hobby. Once you have identified his interests, you can then incorporate them into the theme of the party.
For example, if your dad is a fan of basketball, you can decorate the venue with basketball-themed decorations, and organize games related to basketball. You can also serve food that reflects his interests such as the team colors in cupcake frosting or hot dogs at a baseball game. Make sure that all the elements of the party reflect your dad's personality, from the music playlist to the party favors, everything should make him feel special.
Get Creative with Decorations
Decorations can make or break a party, so it is important to get creative with them. If you want to make the party extra special, think about your dad's interests and hobbies. For example, if your dad loves fishing, you can create a backdrop by hanging up fishing nets and adding fishing lures as decorations.
You can even create a fish pond cake or cupcakes. For car lovers, vintage car posters, and car-themed photo booths can be a hit. You can also use balloons of different shapes and colors to match the theme of the party. Balloons can be used to make arches or hang from the ceiling in clusters. A little creativity can go a long way in making the party decorations unique and memorable.
Plan Fun Activities
Choose the Right Venue
Choosing the right venue for your dad's birthday party is crucial to the success of the event. You need to consider the number of guests, the type of activities you'll have, and the entertainment you're planning. If you're hosting the party at home, make sure you have enough space, seating, and parking for everyone. If you're renting a venue, make sure it has all the amenities you need, such as catering, tables, chairs, and restrooms.
Plan a Surprise Party
A surprise party can be an unforgettable experience for your dad. It can also add an element of excitement and anticipation to the celebration. To plan a surprise party, you need to be discreet, strategic, and organized. Consider enlisting the help of family members, close friends, and co-workers to keep the secret and plan the details.
Incorporate a Theme
Incorporating a theme into your dad's birthday party can add a fun and creative touch. A theme can be anything from a color scheme to a favorite hobby or interest. It can help tie together the decorations, activities, and food choices. Some popular themes include retro, beach, sports, and Hollywood.
Hire Entertainment
Hiring entertainment for your dad's birthday party can help liven up the atmosphere and keep the guests entertained. The type of entertainment you choose depends on your dad's interests and the age range of the attendees. Consider hiring a DJ, comedian, magician, or live band. You can also set up a karaoke machine or organize a game tournament.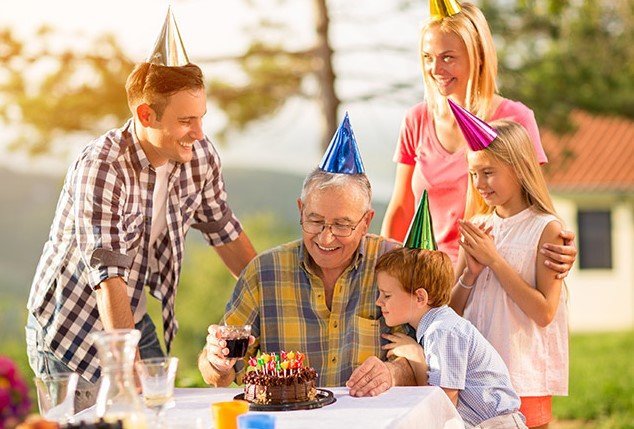 Create a Dessert Table
Creating a dessert table can be a sweet way to celebrate your dad's birthday. You can decorate the table with his favorite desserts, such as chocolate cake, cookies, cupcakes, or pies. You can also add some fun and creative elements, such as a candy bar, a donut wall, or a s'more station. Adding a variety of sweets will delight your dad and his guests.
Plan a Family Vacation
A family vacation can be an unconventional way to celebrate your dad's birthday. It can also create lasting memories and strengthen family bonds. You can plan a trip that includes your dad's favorite activities or destinations.
It can be a weekend getaway to a nearby city or a week-long adventure in a foreign country. Make sure to involve your dad in the planning process and create an itinerary that caters to his interests.
Give Him Something Special
Giving your dad something special on his birthday is a great way to show him how much you care. A personalized gift can be just what he needs to feel appreciated and loved. Think about his interests and hobbies, and choose a gift that reflects them.
For example, if your dad loves grilling out in the summer, consider getting him a customized BBQ set with his name engraved on each piece of equipment. Or if he enjoys reading books in his free time, get him a personalized bookcase with shelves dedicated just for him.
Show Your Appreciation
Your dad has done so much for you over the years, and his birthday is the perfect day to show your appreciation for everything he has done. Take the time to write a heartfelt letter expressing how much you love him and appreciate all that he has done for you. This will mean more than any material gift ever could.
You can also put together a slideshow featuring photos from throughout your life together. This is sure to bring tears of joy (and maybe even laughter) as everyone reminisces on all their shared memories over the years. Showing your appreciation and love to your dad is the best gift you can give him.
Have Fun!
At the end of the day, the most important thing is to have fun! Don't stress too much about the details and enjoy the time spent with your family and friends. Remember that birthdays are meant to be a celebration of life, so make the most of it. Take the time to relax and enjoy yourself as you celebrate another year with your amazing father – after all, life is too short not to enjoy every moment spent together!
Conclusion
Planning a memorable birthday party for your dad requires some creativity and thoughtfulness. Make sure that the party reflects your dad's personality and interests, and includes fun activities, decorations, special gifts, and heartfelt appreciation. With these ideas, your dad's birthday party will surely be an unforgettable experience for him and everyone involved.